The Yarra Valley Chocolate and Winery Tour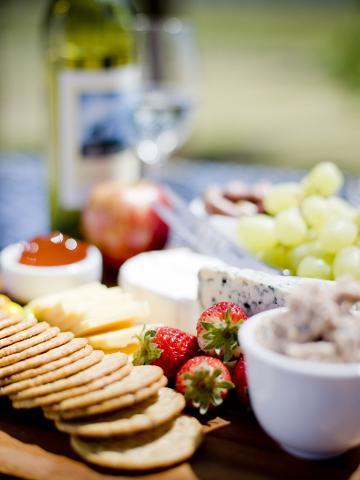 Duration: 8 Hours (approx.)
Product code: ChocolateWine
Book Now
Time: 7:45am- 5.30pm
Duration: Full Day (8+ hours)
Available: Wednesday, Friday and Sunday
Chocolate and Wine Summary

7.45am Meeting Place
Central pick up is at St Pauls Cathedral or at your Hotel before the bus departs to Yarra Valley
9.15am Yarra Valley Chocolaterie and Ice-Creamery
Free chocolate for everyone!
10am Napoleone Cider House and Brewery
You get a paddle with 3 ciders + 1 ale
11am Gateway Estate
Enjoy tastings of strawberry liqueurs and ports
12pm Dominique Portet Winery
Très bon vin and a game of petenque! Winner receives a bottle of bubbles! French-inspired picnic-style lunch in the gardens or barrel room
1.30pm Rochford Winery
Sample award-winning wines and browse the gift shop
2.45pm Killara Estate Winery
Finish the day with antipastoplates and Italian inspired wines
Return to Melbourne between 4.30pm and 5.30pm
The rolling green hills of the Yarra Valley have enticed visitors for over 150 years, and now it's your turn. Imagine yourself (and a couple of friends) sipping on world-renowned wines of the red, white and sparkling varieties,as friendly winemakers welcome you to rustic homesteads with gourmet, locally-grown food to replenish your energy.
Indulge on free chocolate while you watch the Belgian and French chocolatiers handcraft over 250 different chocolate and truffle varieties at the Yarra Valley Chocolaterie. You're sure to walk away with something delicious from the 'Great Wall of Chocolate'. The range of sweet treats includes chocolates infused with fruits and nuts from the Chocolaterie's orchard of cherries, plums, apricots, citrus, almonds and more. And on a hot day, what could be better than luscious home-made ice cream?
It's a full day out among the gum trees and open sky of the Yarra Valley, all supported by an endless supply of free coffee and hot chocolate. We do the Yarra Valley Winery Region in style.
Inclusions:
All wine and cider tastings
Picnic lunch at winery
Local produce for morning tea

Gourmet afternoon tea
Water throughout the day
A professional, entertaining tour guide
On-board fridge to keep your fresh produce purchases cool
Meeting Point: St Pauls Cathedral- Corner of Swanston St & Flinders St, Melbourne VIC 3000

*Children and infant Chocoholics can not part take in this tour
*Must be 18+ years of age