Melbourne Lanes and Arcades Chocolate & Dessert Walking Tour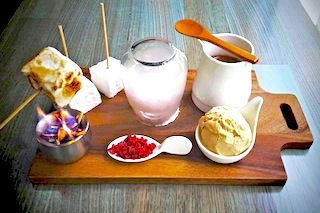 Duration: 3 Hours (approx.)
Location: Melbourne, VIC
Product code: DessertsJan
Time: 10:45am
Duration: 2.5 to 3 hours
Available: Daily
Sweet treats around Melbourne's city centre
This walking tour is our premium experience for food lovers and sweet tooths alike. A delicious opportunity to uncover some of the finest couverture chocolate in Melbourne and to enjoy incredible patisserie through some specially crafted exclusive experiences.
Chocoholics on our Chocolate & Desserts walking tour are treated to specially crafted exclusive experiences with our partner venues and we guarantee you will finish the tour with incredible knowledge and appreciation for the passion and craftmanship that leads to the exquisite flavours you will enjoy on the tour.
Join your local tour guide for a delightful stroll through Melbourne's famous arcades and secret laneways as you discover the beautiful chocolatiers and pâtissiers tucked away down the back streets of Melbourne sampling chocolates and sweet treats along the way!
What happens on the tour?
Meeting at the beautiful Block Arcade, you'll join your local tour guide and your small band of fellow foodies. Each tour has a maximum of 12 participants so you have the opportunity to connect and share the experience with both the guide and the rest of the group. You'll usually find other locals joining our tours, also eager to uncover some of Melbourne's hidden gems they were previously unaware of.
Over the course of approximately three hours we will stroll about two kilometres (1.2 miles) and visit five of the most secret chocolatiers and dessert bars in Melbourne. Most of our partners are exclusively Australian and many are unique to Melbourne, all with their unique tastings and experiences. While the specific partners we visit will vary from tour to tour (depending on their opening hours) we guarantee amazing food and incredible experiences on every tour.
The tour commences with your local guide spending a few valuable minutes teaching you the correct way to taste chocolate. Yes, there is a right way and a wrong way and once you know how you'll want to tell everyone else! Once armed with this knowledge you're ready to embark upon your dessert & chocolate walking tour of Melbourne.
We will wander through some of Melbourne's most iconic arcades, chatting about the history and sharing some of the fascinating stories they hold. We'll navigate down hidden laneways while your local guide points out some of their favourite haunts for drinks and dinner.
As we arrive at each chocolate store we'll spend some time getting to know the story behind the business and at some we are lucky enough to meet either the chocolate maker, the owner or the manager of the store (sometimes they are one and the same person!) before we enjoy our specially prepared tasting experience.
There is then time to browse the store and take advantage of the exclusive guest discounts on offer before we compare notes on our favourites and continue our discovery. (Please note that all tour visits are pre-planned and there is no expectation for you to purchase products.)
The tour includes a lovely sit down tasting experience where we rest those weary taste buds, enjoy a well-earned drink and share our favourite experiences from the afternoon.
Inclusions
- Your own personal and very passionate chocoholic guide will share their own local expertise and, of course, Melbourne's finest chocolate secrets
- Five chocolate / dessert stops
- All tastings and drinks with a minimum 7 chocolate tastings plus:
- Cheese & chocolate matching experience
- Dessert
- Hot chocolate

- Chocoholic Survival Kit, including:
- tasting bag – for any leftover tastings (if there are any!)
- bottle of water
- "I'm a Chocoholic" pin badge
- special in store offers
- a maximum tour group size of 12 people to keep the tour intimate
Meeting Point: The Block Arcade, 100 Elizabeth Street, Melbourne CBD

Your guide will meet you outside
the
Elizabeth Street entrance
. If you arrive early, please pop inside to browse in Australian By Design. It's a unique store showcasing local artwork and has a lovely gallery. Bill would love to show you around. Mention you are on the Chocoholics tour to receive a 15% discount.